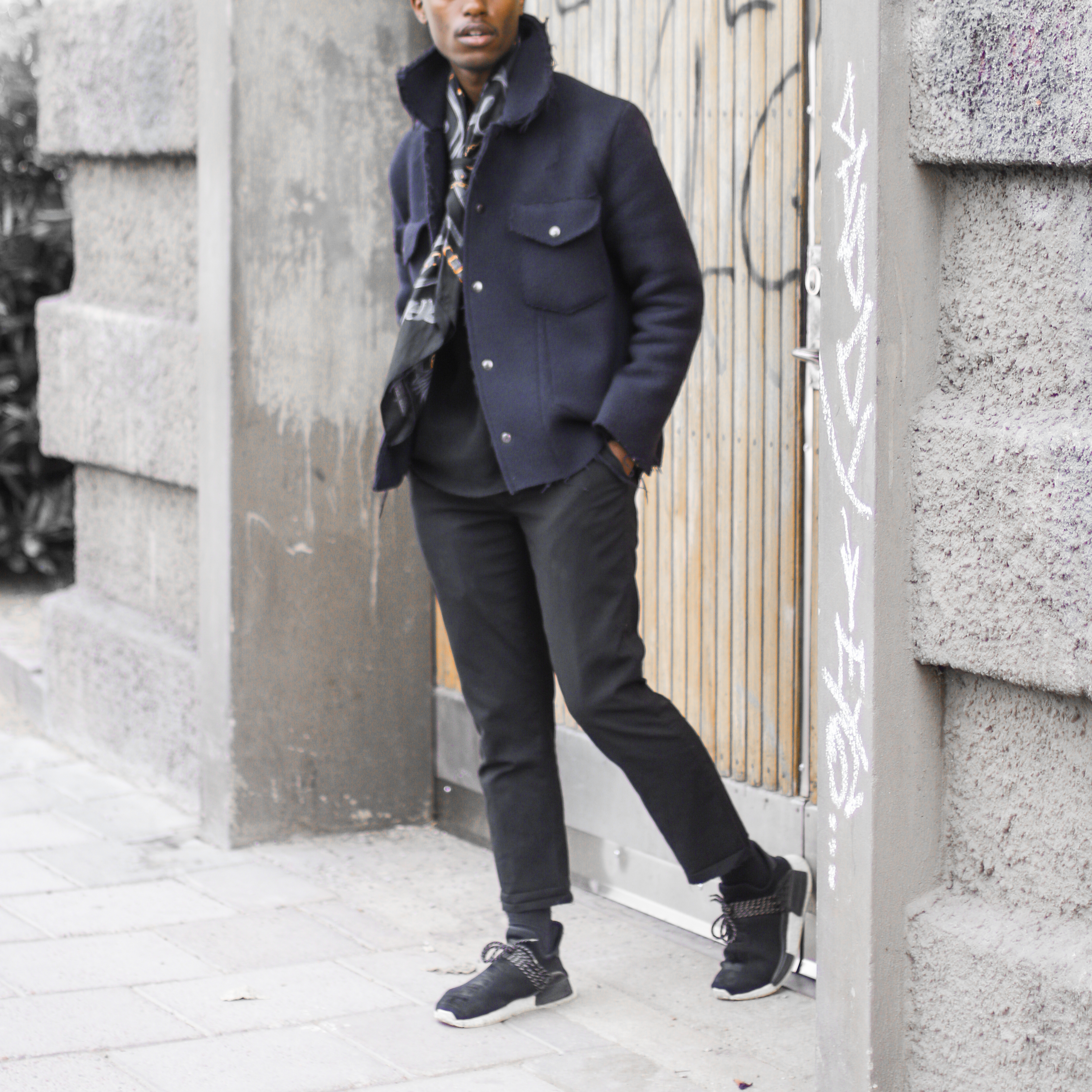 Jacket: Die Monde
Scarf: Versace
T-shirt: COS
Pants: COS
Shoes: Adidas NMD Human Race x Pharrell Williams

---
Has anyone ever asked you that dreaded question 'where do you see yourself in 5 years time?' I literally despise that question – I think it's great to have an idea of where you want to be in life or some sort of direction but who knows what can happen within the next week let a lone in 5 years time.
Enjoy the Journey
Too often I'm focusing on the end result, the win or the prize and I'm worried about achieving that which makes enjoying the journey impossible. Sometimes when you look back it's not the end result that you remember it's how you got there.
I think it's important to take a wider view of situations, a 360 if you will. Look at it from all different angles and assess the different outcomes but more importantly remember to enjoy the journey, you have 1440 minutes in a day, why would you waste a second them being worried?
Be Confident and Take Control
No matter how much you worry about the outcome, it's you and only you that can change how you deal with the situation. Lets say for example you're heading to a meeting/event where you know a group of people will be that you don't know or don't particularly get on well with. Instead of avoiding it or making an awkward yet short conversation you can actually take control of that situation, diffuse the worry and the stress by rising above it. If you're in control then you don't have to worry.
Don't Worry about Failing
Everyone fails, everyday. Whether it's something minor like tripping over in the street (lol) (sorry) or failing on a test, failing is important because it teaches us what not to do next time. Treat each fail as a lesson, making mistakes helps us realise what we did wrong. Ie. Watching out for that place in the street that made you trip so you don't do it again or taking time to fully study the part of the test you failed. Failing is a part of life and you just have to accept it and learn from it.
See how far you've come
Too often we beat ourselves up – me especially over what we didn't do or what we could have done. Whereas we should celebrate what we have done and what we've accomplished. So write down a list of what you're proud of and give yourself a pat on the back. Look forward to the future with excitement and positivity, leave that worry behind and I promise you'll enjoy yourself a whole lot more.